Making a difference and giving back to make a positive impact in our community and beyond
Antunes is committed to making a positive impact through charitable outreach, environmental sustainability, community involvement and supporting our team members. We're passionate, we're family-driven and we're dedicated to the idea that we can help people both here and around the world.
Giving Back
Throughout the world, Antunes has a reputation for excellence, and with that reputation comes a social responsibility to make our planet a better place. We accomplish that not only through our products and business practices, but also through our partnership with Splash.
Founded by Eric Stowe in 2006, Splash is a nonprofit organization that brings clean water to children throughout the world. Antunes began working with Splash soon after its inception, and through this partnership, Splash has installed more than 1,140 of our water filtration systems throughout the world.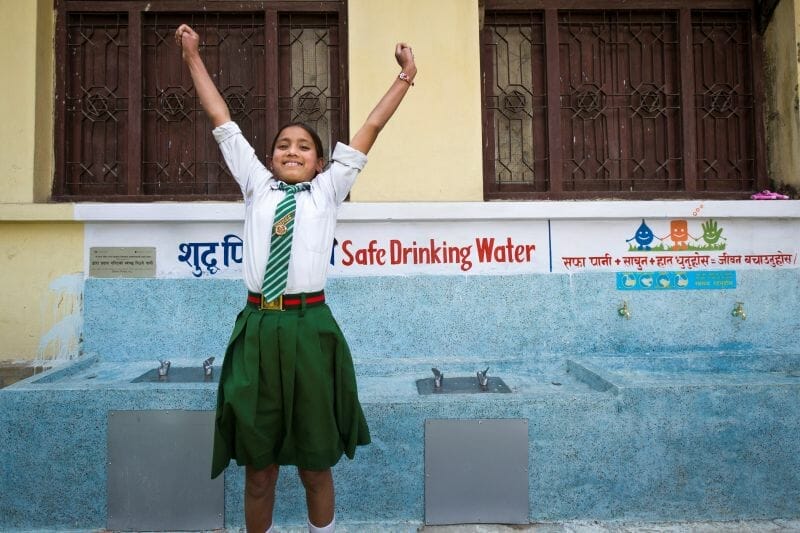 In 2011, Antunes named Splash as its corporate charity and has supported the organization through financial donations from corporate initiatives and events. So far, we have raised more than $300,000 for Splash, and we're excited to continue to support this wonderful organization.
We're proud to continue our partnership with Splash through various company-wide events — once again rallying together as a company for our ninth annual Charity Golf Outing in September 2020. What originally began as a small informal gathering has grown into a yearly event with hundreds in attendance. Over the years, we've raised funds to help Splash bring clean, safe drinking water and hygiene education to children around the world.
Corporate
At Antunes, we're always focused on creating a culture of family within our company. Our apprenticeship program continues to be a significant part of that commitment — fostering an environment where learning is at the forefront. From fabrication, welding and precision measurements to specialized machine operation, we open up our program to all team members who wish to gain critical knowledge and experience. We encourage our employees to continue their education — offering partial and full financial support for training programs, professional certifications and college degrees.
Environmental
As part of our corporate commitment to being good stewards of the environment, we're proud to report an increase in green energy purchases from 5% to 20% in 2018 alone. By choosing renewable energy, we're helping to reduce CO2 emissions, as well as cutting our dependence on fossil fuels. Part of this corporate effort is our recent solar panel project, featuring a fixed array on our 40,000-square-foot roof, with premium-grade panels that generate an estimated 430,000 watts annually — accounting for 12% of total facility usage. But our commitment to the environment doesn't end with our facilities. We're working hard every day to produce efficient, long-lasting equipment that reduces energy consumption and material waste.
Community
Volunteering is also an important part of the Antunes community. Whether it's collecting trash during our Annual Spring Cleanup, hosting bowling events to benefit Ronald McDonald House or creating care packages for Feed My Starving Children, you'll always find Antunes employees lending a helping hand throughout the year. Antunes is also proud to extend our charitable outreach through our donation matching program — giving an equal donation in kind to a team member's selected charity.