7 extraordinary chefs. 8 pieces of Antunes equipment. 7 memorable dishes.
This was the idea behind the Antunes Chef's Challenge which brought together chefs to use Antunes equipment in surprising new ways.
The result was not only delicious meals, but insights into how Antunes equipment can positively impact foodservice operations and address kitchen challenges.
Here are six of the key benefits of the equipment, as shared and demonstrated by the chefs.
Addressing a Need for Versatility
Chef Gaby Morales with Kain McArthur (Olathe, KS) made Southern-style shrimp and grits using the Jet Steamer and Rapid Steamer. She noted that the Rapid Steamer offers great versatility due to the number of different products you can cook in it. She used it to cook shrimp and found that it keeps the flavor and delivers a nice and juicy product.
Chef Connor McQuay of Food Service Solutions (Mississauga, Ontario, Canada) wanted to focus on one piece of equipment and show its versatility, so he chose the Egg Station. He was able to cook three separate ingredients on the Egg Station and come up with a complete dish in a short amount of time. His favorite thing about cooking on the egg station was the quality and consistency of the finished product.
Saving Valuable Kitchen Space
Chef Dan Chlebowski from Fredco Manufacturers' Representatives (Irvine, CA) used several pieces of equipment, including the Hot Dog Corral and Flat Bread Toaster, to create his dish. He liked that Antunes has ventless equipment, which allows for flexible placement within the kitchen and doesn't need space for a vent system.
Chef Shawn Stoffer with Chernoff Sales (Fort Lauderdale, FL) created a tropical take on bread pudding. Using the Egg Station and Jet Steamer, he commented on the fact that smaller kitchens mean smaller equipment and chefs must be able to cook multiple products on that piece of equipment to capitalize on available space.
Inspiring Menu Innovation
Chef Chris Waltman from FH&W (Coppell, TX) feels cooking should be like a "magic trick."  He was able to use the Deluxe Food Warmer in an unique way — to cook the meringue for his s'mores bread pudding, which he made using the Egg Station.
Also using the Egg Station, Chef McQuay thought outside the box with his okonomiyaki, a savory Japanese-style pancake. Not only did he create a perfectly sized pancake using the egg ring, but he steamed and cooked shrimp on the Egg Station and used an umami sauce instead of water in the steam reservoir to elevate the flavors.
Additionally, Chef Stoffer used the Jet Steamer create the banana sauce for his bread pudding. The steam activates the corn starch to make a thicker sauce.
Focusing on Clean Eating
Equipment can also address trends, such as cleaner, healthier menu items. Chef Alejandra Santos with Odisa (Guadalajara, Jalisco, Mexico) prepared chiles en nogada using the Miracle Steamer. In addition to the optimized cook times and quality of the final product, she said that one of the other advantages of steaming is that you don't have to use oils and fats to get great flavor.
Chef Corbett Harrell from The Redstone Group (Salt Lake City, UT) also found steaming to be a healthier alternative for his Chicago Italian beef sandwich. He shared that steaming is great for vegetables and proteins — maintaining the structural integrity of the food, as well as the nutritional value.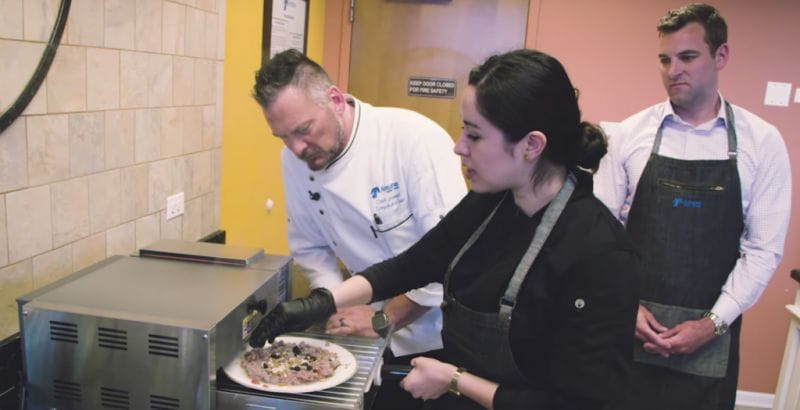 Increasing Speed of Service
Chef Waltman's favorite feature of the Egg Station is its dual cooking ability. Food is seared on the griddle surface and using the water reservoir adds steam to the cabin — giving you a quicker cook time. This means a dish like bread pudding, which could take significant time to cook, can be made to order in minutes.
Although his dish incorporates several components, Chef Chlebowski uses the quick cooking features of the Antunes equipment to create his "fast food of the future." With a little bit of prep work, this menu item can be served to a customer in less than a minute.
Better Consistency
Easy equipment operation makes the end result more consistent. Chef Morales saw how the Jet Steamer's one-button operation not only maintains the integrity of the product but helps to overcome labor challenges, as anyone can easily operate the unit.
Consistent product quantities are also important. Chef Santos found that for the ground beef component of her dish, the flavors are enhanced and you lose less volume when using a steamer.
Want more insights from the Antunes Chef's Challenge? Hear from the chefs and see their culinary creations by visiting antunes-chefs-challenge.com. You'll be inspired to image something different in your kitchen!